What do we do?
Molecular profiling of cancers has revolutionized the way treatment regimens are currently determined. Each individual tumor has its unique genetic make-up andspecific genomic variants have been shown to have significant impact on tumor evolution and treatment response However, despite of the key role of genomic testing in driving clinical decisions, too many patients still do not have access to this state of the art technology. Combining the unique knowledge of its expert team with the unprecedented powerful Oncomine™ technology and its family of cancer profiling assays, MolGenDx now offers a complete set of services to support cancer specialists and patients worldwide.
Upon samples' molecular profiling MolGenDx releases a highly informative and concise report. Our report offers a comprehensive but targeted overview of a tumors' mutational landscape and theresults could for example be discussed by peers at a molecular tumor board meeting.
How do we do it?
MolGenDx's mission is to provide first in class characterization of the patient's cancer, nothing less than this. To achieve this, we make use of the next-generation sequencing based Oncomine™ technology. The Oncomine™ assays allow the analysis of multiple biomarker types, such as gene fusions, insertion/deletions (indels), single nucleotide variants (SNV) and copy number variation (CNV) in a single analysis (link to Oncomine website here).
What is our promise?
We make no compromise, at no cost. High-quality results, fast turnaround time (from sample reception to results in maximum 10 business days) and low rejection rate, this is what we stand for. . Managing, and eventually interpreting (Calls variants, identify and annotate cancer drivers)
the clinically relevant variants produced by next-generation sequencing (NGS) presents a formidable challenge. And yet again at MolGenDx, this is where our expertise lies, thanks to our highly trained team of experts. Talk to us any time you want.
We are not just producing data and reports, we also like to talk to you. Once your reported is generated, get in touch with us and let's dive into the data together. Our Team (Board certified Pathologists and Laboratory Directors) will provide you with unparalleled clinical genomics expertise. So, if you feel you need additional information about the results, we are happy to support with that.
LUNG CANCER ASSAY
a versatile solution covering all clinically relevant mutations and Gene Fusions. Including variants in KRAS, NRAS, BRAF, HER2 as well as gene fusions for ALK, ROS1, RET and NTRK1 plus other genes of the Oncomine Solid™ - CE-IVD. The Oncomine Solid Tumour kits are CE-IVD kits for both DNA and RNA workflows. This assay is compatible with formalin-fixed and paraffin-embedded (FFPE) highly degraded samples. List of genes analyzed with the Lung Cancers Assay: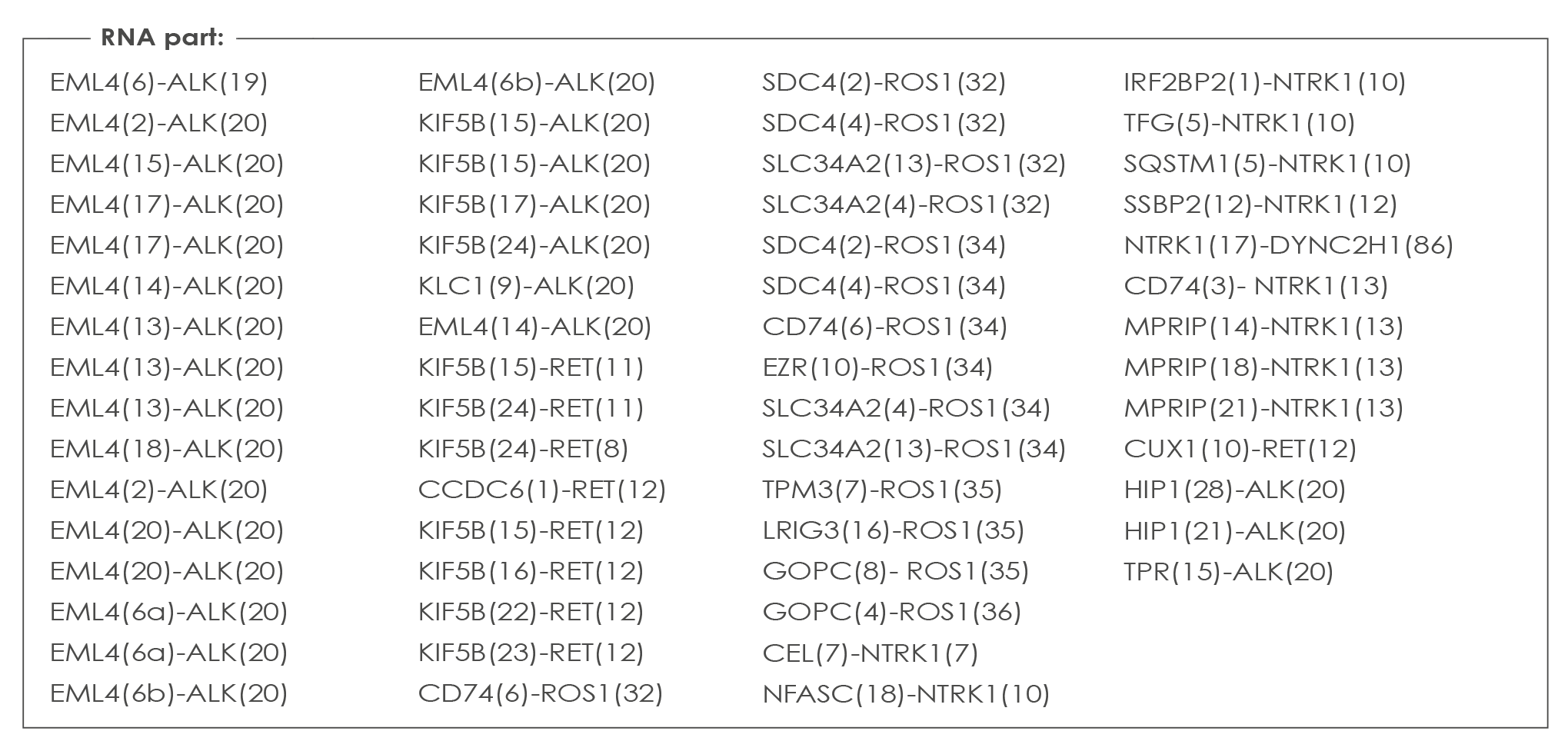 COLON CANCER ASSAY
a dedicated panel to that offers you all you need for treatment decision. Covering variants in KRAS, NRAS, BRAF and the other genes of the Oncomine™ Solid Tumor Panel.
List of genes analyzed with the Colon Cancers Assay:

MELANOMA ASSAY
allowing the detection of all clinically relevant mutations and Copy Number Variants- Covering variants in BRAF, NRAS, KIT and the other genes part of the Oncomine™ Focus Assay. The Oncomine™ Focus Assay is a targeted, multi-biomarker assay that enables you to target hotspots, SNVs, indels, CNVs, and gene fusions from DNA and RNA in a single workflow in variants in 52 key solid tumor genes. The Oncomine Focus Assay leverages Ion AmpliSeq™ technology and enables robust results, with low input amounts (10 ng DNA). This assay is compatible with FFPE fine needle aspirates and core needle biopsies. List of genes analyzed with the Melanoma Assay:


BREAST - OVARY - PROSTATE CANCER ASSAY
suited for both Germline and Somatic Variants detection, intended to inform patient management related to the PARP inhibitors, Lynparza® (olaparib) and Zejula® (niraparib). This Assay enables 100% exonic coverage for BRCA1 and 2 genes, superior uniformity, and high reads dept (average is 600). It detects 5% and below minor-allele frequencies.
GIST ASSAY
(gastrointestinal stromal tumor)
covers all classical mutations plus Copy Number Variants. Covering variants in KIT, PDGFRA and the other genes of the Oncomine™ Focus Assay
List of genes analyzed with the GIST Assay:


COMPREHENSIVE CANCER ASSAY
for tumors that require an extensive genomic profiling for I/O therapy.
Oncomine™ Comprehensive Cancer Assay-v3 (DNA Part): this Assay covers 161 of the most relevant cancer driver genes, including increased kinase domain coverage and representation of genes involved in DNA repair. This Assay is Optimized for challenging formalin-fixed, paraffin-embedded (FFPE) samples and is based on Ion AmpliSeq technology, it requires just 10 ng of input DNA or RNA per reaction.
List of genes analyzed with the Comprehensive Cancer Assay-v3: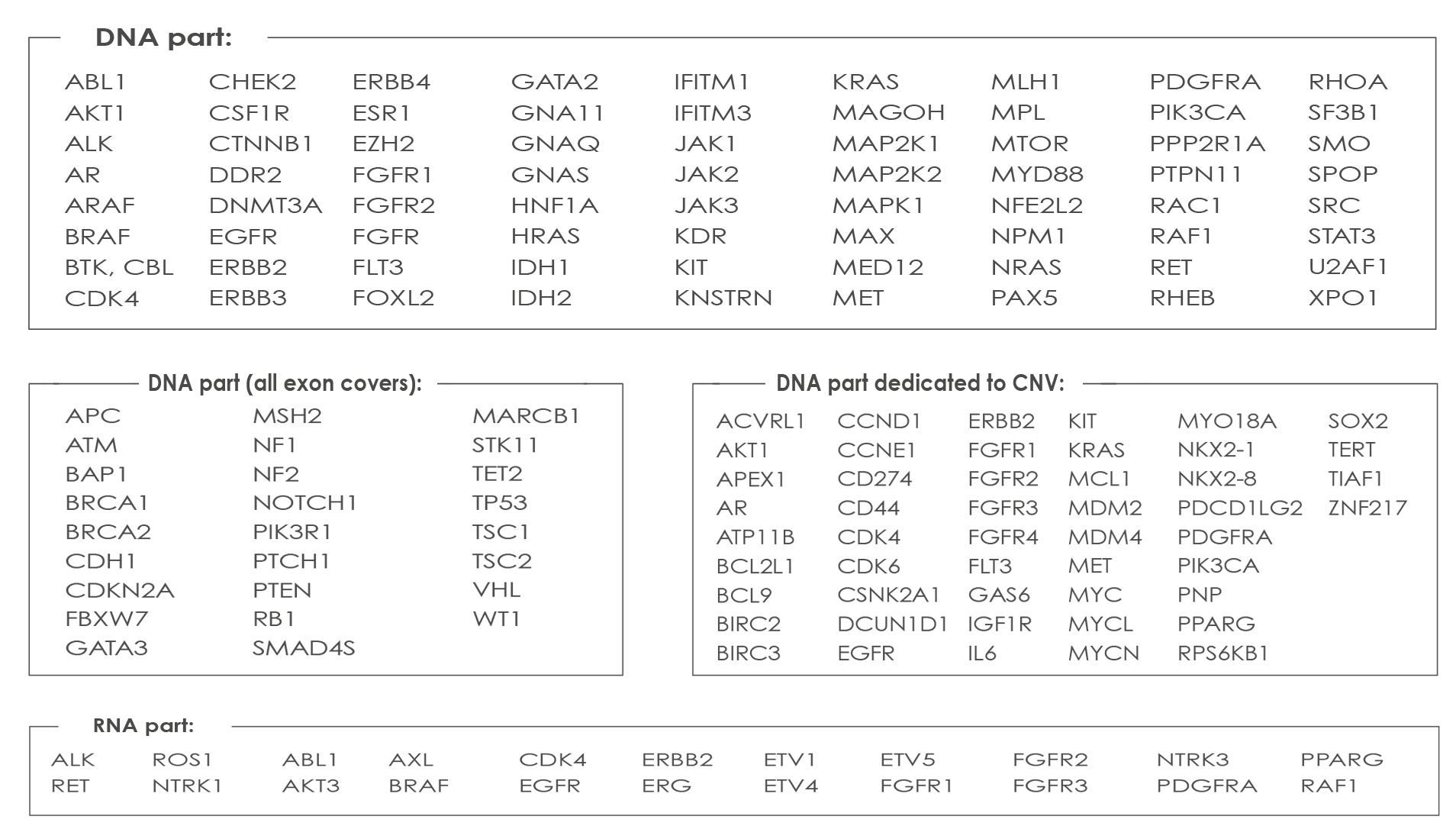 Oncomine™ TMB - tumor mutational burden - cancer assay
Immune checkpoint inhibitors have changed the treatment paradigm for a variety of cancers, but not all patients will respond to immunotherapies. Relevant biomarkers have shown to be as important as the therapies since they guide in our quest to help match patients with the appropriate treatment. The Oncomine Tumor Mutation Load Assay covers a large genomic footprint of 1.7 Mb to enable accurate mutation counts for samples with a range of tumor mutation load.
MGDX Combo Cancer Assay
including top Cancer Driver Variants and TMB analysis. Allow the simultaneous detection of gene variants in 409 cancer related genes as well as TMB status assessment.
- Consulting Service - for discussing about the obtained test results with an expert in genomics. Advanced Pre and Post Analysis Technical and Genomics Consulting Raw Data Re-Analysis (Ion Torrent restricted) and interpretation
TARGETED SEQUENCING FOR LIQUID BIOPSY
next generation diagnostics
Defining actionable mutations to drive clinical decisions. Taking advantage of the highly sensitive Ion Torrent™ Oncomine™ Pan Cancer Cell-Free Nucleic Acid (cfNA) Assay, MolGenDx now offers a multi-biomarker next-generation sequencing (NGS)-based comprehensive solution for Liquid Biopsy testing. Enabling molecular profiling to assess tumor evolution and detection of cancer driver variants or resistance mutations, our solution can assist treatment selection for oncologists. Built on a proprietary (Thermo Fisher Scientific) amplification-based technology, the Pan Cancer Assays enables the detection of genomic variants from cell-free nucleic acids (DNA/RNA), down to 0.1% allelic frequency. This assay covers all the actionable markers supported by drug labels and clinical guidelines (FDA, EMA, Guidelines from NCCN and ESMO) for Hotspots, CNV and Gene Fusions.